CAREERS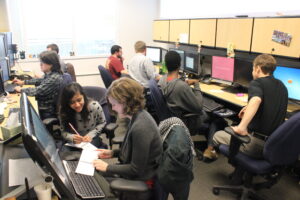 Are you interested in joining a vibrant software technology organization that is expanding and emerging as a leader in the field of data visualization? Look no further…
The CATT Laboratory is the leading transportation information analysis, visualization, and user interface design laboratory in the country. Our products and services are used by thousands of public safety agencies, state and local departments of transportation, public officials, and consultants every day. We provide an integrated product suite of situational awareness tools for emergency managers, and also provide leading edge data analytics products for transportation planners and consultants. These products and services are rapidly changing the way governments do business and make important decisions.
The CATT Lab is looking for energetic, highly motivated individuals to join our team in a variety of roles.  If you are interested please check out our full-time and student positions below.
Full-time Professional Positions
At times, we hire the following positions—but are not currently accepting applications at this time. Please check back here, or at Careers4Terps.
Computer Science Software Development Interns with strong experience in Python, Java, or JavaScript
Computer Science Software Quality Assurance Interns with experience in software testing
Data Scientist Interns with strong analytical and statistics skills
Customer Service Interns, good communicators who can analyze problems
Database Interns with experience in PostgreSQL or Hadoop
IT Interns with experience in Linux administration, network administration, and/or Windows support
Technical Writing Interns who are good writers with technical aptitude and interest
Our internships are intended to last one year or longer. Many students work in our lab until they graduate, and some continue directly into professional careers at the CATT Lab.