CAREERS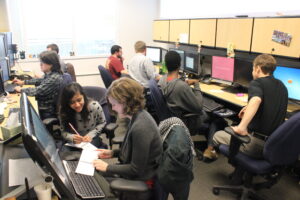 Are you interested in joining a vibrant software technology organization that is expanding and emerging as a leader in the field of data visualization? Look no further…
The CATT Laboratory is the leading transportation information analysis, visualization, and user interface design laboratory in the country. Our products and services are used by thousands of public safety agencies, state and local departments of transportation, public officials, and consultants every day. We provide an integrated product suite of situational awareness tools for emergency managers, and also provide leading edge data analytics products for transportation planners and consultants. These products and services are rapidly changing the way governments do business and make important decisions.
The CATT Lab is looking for energetic, highly motivated individuals to join our team in a variety of roles.  If you are interested please check out our full-time and student positions below.
Full-time Professional Positions
Check back in early February 2018 for new positions!
Undergraduate and Graduate Internships
CATT Lab interns are paid employees who work on professional production systems. Our interns have gone on to work for major companies like Apple and IBM and government agencies like NASA. You must be available for one year or longer, and ready to work 10–20 hours per week during spring and fall semesters, and full-time over the summer. Many students work in our lab until they graduate, and after graduation some continue directly into professional careers at the CATT Lab.
Check back soon—we're planning an internship job fair on campus in February or March 2018 for the following positions:
Software Developer Interns to join our development teams.  You must be skilled at developing and debugging Python, Java, and/or JavaScript. Big plus if you know Hadoop, SQL, Linux, Django,  React, and/or MapReduce.
QA Interns to join our team dedicated to improving our products. You must have experience with several of these areas: functional requirements, derived requirements, API testing, Selenium automated testing, and manual testing. Big plus if you have experience developing use cases, or using Jira or Confluence.
A UI Design Intern to join our Design Lead creating web application designs. You must be skilled at Adobe Illustrator and Photoshop, with experience in UX and UI design of applications and websites. Big plus if you know HTML 5 and CSS, or have experience with mobile app design, or programming.
A GIS Intern to join our data science team analyzing and manipulating geospatial data. You must be skilled at ArcGIS. Big plus if you are familiar with relational databases, or Traffic Message Channel (TMC) or other transportation technologies.