CAREERS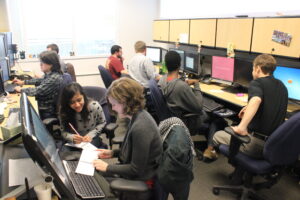 Are you interested in joining a vibrant software technology organization that is expanding and emerging as a leader in the field of data visualization? Look no further…
The CATT Laboratory is the leading transportation information analysis, visualization, and user interface design laboratory in the country. Our products and services are used by thousands of public safety agencies, state and local departments of transportation, public officials, and consultants every day. We provide an integrated product suite of situational awareness tools for emergency managers, and also provide leading edge data analytics products for transportation planners and consultants. These products and services are rapidly changing the way governments do business and make important decisions.
The CATT Lab is looking for energetic, highly motivated individuals to join our team in a variety of roles.  If you are interested please check out our full time and student positions below.
Jobs
Full time positions
Positions for UMD students
Summer positions for non-UMD students
The lab considers students from any university for summer positions.  If you would like to be considered for our summer session please email your resume to tomjones@umd.edu by April 1.