Visiting the University of Maryland CATT Laboratory
The Center for Advanced Transportation Technology (CATT) Lab has offices in the Technology Ventures Building (TVB) off campus – 2nd & 4th floor
These directions are to the Technology Ventures Building and nearby parking:
5000 College Avenue, College Park MD 20740
DRIVING: Drive to the address above.
Parking in Lot TV, adjacent to the building is permit-only, even for short visits.
Visitors can use short-term street parking along 50th Avenue free of charge when spaces are available, but be sure to read signs carefully to avoid a ticket. Parking is limited to 3 hours. The surface lot between Col. Frank Scott Drive, Lehigh Drive, and Campus Drive is privately administered by Off Campus Parking since September 1, 2023, at offcampusparking.com/collegepark, is paid parking only.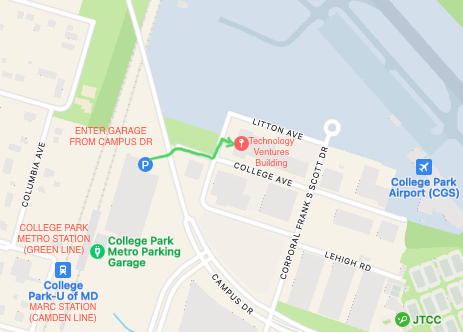 Parking at College Park-U of Md Metro:
All day spaces: 1,290
Cost/day: M-F $4.95
Payment: SmarTrip® cards and credit cards
Additional spaces and costs:
East – 42 short term meters @ $1.00 per 60 mins.
West – 21 short term meters @ $1.00 per 60 mins.
TRANSIT: Metro or MARC: Take Metro's GREEN line to College Park. If you take MARC (Camden Line), go through the tunnel under the tracks, or go through the Metro Station itself. You will exit on the same side of the tracks as the parking garage. Walk past that garage, cross Campus Drive, and walk one block to the large red brick building at the intersection of 50th and College Avenue. The entrance is at the front, under the green awning, with a ramp for wheelchair access along the side of the building.