CAREERS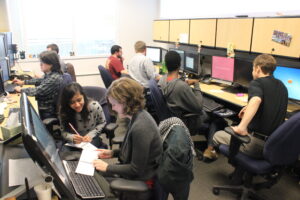 Are you interested in joining a vibrant software technology organization that is expanding and emerging as a leader in the field of data visualization? Look no further…
The CATT Laboratory is the leading transportation information analysis, visualization, and user interface design laboratory in the country. Our products and services are used by thousands of public safety agencies, state and local departments of transportation, public officials, and consultants every day. We provide an integrated product suite of situational awareness tools for emergency managers, and also provide leading edge data analytics products for transportation planners and consultants. These products and services are rapidly changing the way governments do business and make important decisions.
We receive hundreds of gigabytes of transportation data every day ranging from traffic accident information to real-time traffic speed and flow information. Transportation data may describe how effective a road is during rush hour or the impact of a work zone on traffic congestion. Our clients use our software to analyze the transportation data in order to generate insights used in research, planning, and operations.
We're passionate about transportation as much as we're passionate about building great software. We care about building usable, stable, and secure software that can handle large amounts of concurrent users analyzing lots of data on a daily basis. We use cutting edge tech to build and maintain our software. We have a mature development process and use industry best practices to ensure that we build the best software possible. This is an agile environment, so we have stand-ups, retrospectives, sprint planning meetings, and Kanban boards. Our team is composed of program managers, technical leads, full-stack developers, scrum masters, testers, administrators, DBAs, interns, and customer support.
Our lab is located in College Park near the University of Maryland and it's easily accessible by metro, bus, car, and bike.
So, you've made it this far. Great! If you're interested in working with a team that builds software used every day to help improve road networks and reduce congestion across the United States, you want to make an impact to the way people analyze and visualize traffic data, and you're interested in working with people that are passionate about what they do, apply now! We strive to cultivate a diverse team because we believe that different perspectives build better products, so we encourage people of all backgrounds to apply.
Full-time Professional Positions
Undergraduate and Graduate Internships
CATT Lab interns are paid employees who work on professional production systems. Our interns have gone on to work for major companies like Apple and IBM and government agencies like NASA.
You must be available to intern with us for one full year or longer (i.e. your graduation date should be a year or more away), and ready to work 10–20 hours per week during spring and fall semesters, and full-time over the summer. Many students work in our lab until they graduate, and after graduation, some continue directly into professional careers at the CATT Lab.
For information, or to apply, go to Careers4Terps and search for CATT Lab.
For all other employment inquiries or to apply, contact us at cattlab-jobs@umd.edu.