Time Spiral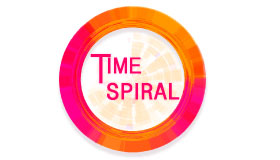 Temporal data sets often present an interesting characteristic of being linear in nature, but contain cyclic patterns that are not effectively conveyed by conventional linear visualizations and are often more interesting than the linearity of the data itself. The Time Spiral, an interactive web-based tool, employs a visualization technique that allows these cyclic patterns to take center stage, while at the same time simplifies the identification of breaks or anomalies in the data set being investigated. To achieve this, the Time Spiral renders data along a temporal axis which spirals outward at regular intervals. Individual data points are rendered as bands along the axis, creating visual clusters among datum that contribute to patterns.
The Time Spiral can be used to allow analysts to view multiple temporal data sets together using the techniques described above. The figures below highlight some of the advantages to using the Time Spiral when viewing temporal data sets.
Time Spiral Demo
Click here for an interactive Time Spiral demo!
Additional Screen Shots